Main Content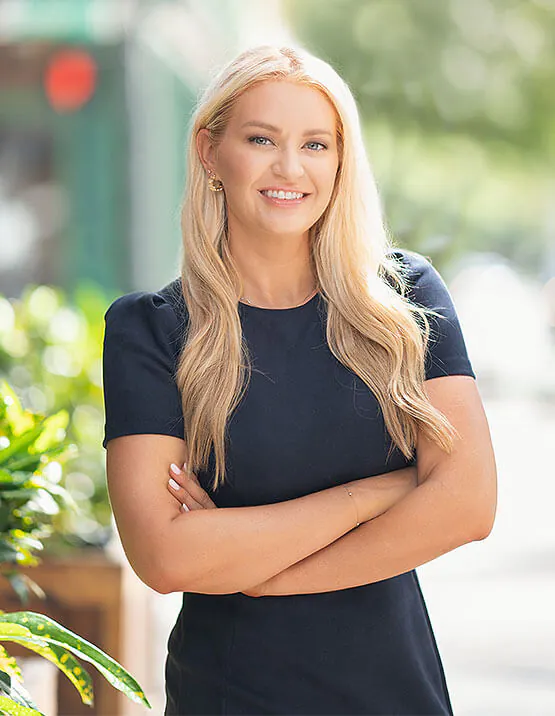 About
Stacy Fleisher Wayne
Stacy Fleisher Wayne is a licensed Real Estate Broker, Realtor and Owner of Florida Home Team Realty, LLC, located in Orlando, Florida. Stacy joined Florida Home Team Realty (FHTR) in 2009 after graduating from Florida State University with a Bachelor's degree in Finance and Real Estate. Within four years of joining FHTR, Stacy obtained a broker's license and designations including a Certified Residential Specialist (CRS), an Accredited Buyer's Representative (ABR), a Graduate-Realtor Institute (GRI), a Certified Negotiation Expert (CNE) and a Pricing Strategy Advisor (PSA). She is a member of the Orlando Regional Realtor Association (ORRA), the Florida Association of Realtors (FAR) and the National Association of Realtors (NAR). Stacy is also a member of the Women's Council of Realtors (WCR) and the Young Professionals Network (YPN). Stacy also enjoys volunteering her time at the local Realtor association serving on professional committees.
Read More
What MY Clients
Are Saying
"
"As a first time home buyer it is very easy to become overwhelmed with the all the different aspects that go into purchasing a home. Stacy made this process simple, relaxing and comfortable. She knew all the right questions to ask that allowed her to help us find the perfect home. Her customer service is outstanding and expertise enabled us to recognize things that we did not realize were very important to us in buying a home. I would recommend her to anyone."
- TJ Culley
"
"Stacy was incredible to work with and a true professional! She was very quick to respond to all my e-mails and always made sure to be available for showings and any questions we had. The positivity and determination Stacy brought to the table was refreshing to say the least. Having had some unpleasant experiences with other real estate professionals only made our experience with Stacy stand out for all the right reasons. I will most definitely utilize her expertise again in the future."
- Vanessa Castnova
"
"The first impression we got about Stacy is that she is very very nice. It turns out it is not just that. She is also very very effective and professional. She and her partner Laura sold our house in ONE DAY. What impressed us the most is their preparation in getting the house ready to be put on market. They did an excellent job in marketing the house and getting the words out. By the way, Stacy is also an excellent photographer. We really are amazed by the photos she took in putting our house on market. She has a unique eye to find the best angles of our house and show them in a way that we never realized before. What a wonderful talent! I have no doudt that we made a great decision in having her represent us in this downturn market."
- Shawn Wang
"
"Stacy was wonderful to work with. She answered all of my husband and my questions almost immediately. If she by chance didn't know the information she would find the answer and get back to me usually with in the hour. She always made herself available to us and treated us like we were the most important client that she had. Our experience with her was top notch. I sent her on so many findings for us that she had to be going crazy, but she never made us feel like it was ever a hassel!

Thanks so much Stacy for a wonderful experience."
- Brian and Janelle Eckman
"
"6/2015: Once again we contacted Stacy in January to help us find another property. Stacy immediately set up a listing portal where we were able to view properties as soon as they listed. We were able to find a great property at a great price that closed within five weeks. Stacys' response to texts/emails is timely, her advice indispensable and demeanor outstanding. Stacy also recommended a mortgage lender that was outstanding. If you want to feel you have an agent working with & for you, do not hesitate to contact Stacy! -------------------------------------------------------------------------------------------- My husband and I live in New Jersey & with Stacy's help we were able to locate, negotiate and purchase a future retirement property in Altamonte Springs. Stacy is the agent you need if you live close or at a distance as we are. She listened to us and showed my sister homes within our list of requirements. Stacy went to bat for us with the seller who was a bit difficult. Stacy is an excellent agent with great follow up & negotiation skills, able to provide great recommendations for local services, overall an excellent provider of real estate services. We recommend that you contact Stacy and work with her. You will not have one moment of doubt regarding engaging her services! We certainly recommend Stacy without hesitation."
- Abby Crespo
"
"At the time of our purchase, we owned homes in Kansas and Mexico. My wife is from Florida and we were able to purchase a home near her aging parents and her brothers and sisters through some occasional visits and internet searches. We were even able to close on the purchase remotely from our house in Mexico. Stacy was always supportive and helpful with her input. She listens well and immediately follows up. She supplied us with lots of excellent information and sales history to help us make fair and reasonable decisions.Our purchase was a cash purchase and a short sale. She kept us informed and hopeful throughout the process and today we own a good value home in Florida. I believe she would be an excellent resource for anyone wanting to buy in the Orlando area."
- Paul Rounds
"
"I wish I could put in words how AMAZING Stacy is! We contacted Stacy around September of 2010 because we saw her ad on the internet while looking at houses to buy. She was literally the first realtor we contacted and WOW...we got lucky!!! She showed us a few houses and we decided that it was probably best that we waited because of financial reasonings. Stacy informed us that we could call her when we decided to start looking again. Honestly, we forgot about houses and forgot about Stacy until May 2011. We had just started thinking about looking again when my phone rang...it was Stacy! She was calling to see if we had decided to start looking again and oddly enough, we were! She showed us it seemed like hundreds of houses all over Volusia and Seminole County until we finally found one we fell in love with. Unfortunetly, the house was a short sale and we had NO knowledge of what that entailed but we were ready to buy it! So, June 2011 we signed our contract and Stacy updated us and helped us EVERY SINGLE step of the way! She called or emailed me as often as she could to give us updates about where we were in the short sale process. She was always EXTREMELY helpful with explaining the Realtor gibberish that we didn't understand..and if I still didn't understand, she found another way to explain it to help me!!! Finally, January of 2012 we closed on our house and were 100% comfortable with everything because once again..she was right by our side from start to finish! I wish everyone could have someone like Stacy to work with...she is a fabulous realtor, very professional, honest, always available, and now, a friend! THANK YOU STACY at Florida Home Team Realty! I would recommend her to ANYONE!"
- Theresa Perrault
"
"I purchased a single family home in Oviedo, Fl for $230k with Stacy as my realtor. She was truly a blessing with regards to her professionalism and her ability to meet the demands of two very demanding clients! I found Stacy to be a huge resource when it came to asking questions about the purchasing process as well as the financing process. I went through BOA for my mortgage and it was a communications nightmare!!! Stacy helped us with that side of the transaction tremendously!"
- TopherCors
"
"After having many frustrating encounters with various realtors, we were thrilled to find Stacy! She is highly organized, professional, and knowledgeable about the Orlando area. She truly is one of the best in the business, and we would not hesitate to recommend her anyone."
- user1759927
READ MORE Testimonials
Featured
Areas
Don't see your city here? Stacy services a wide range of areas throughout greater Orlando. Ask Stacy about coverage in your area!